Agilant Named the 2020 HPE SLED South/Central Partner of the Year!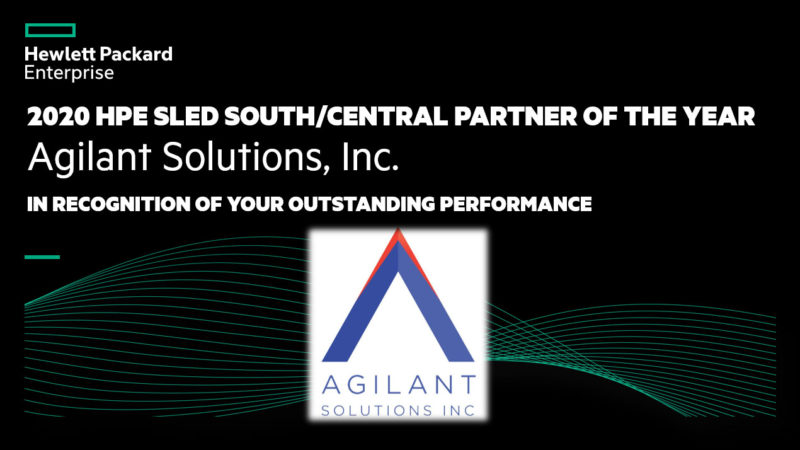 "Agilant has a long-standing business relationship with the team at Hewlett Packard Enterprise (HPE). For over 15 years we have worked in tandem bringing customers innovative, cutting-edge technology solutions with a rich portfolio of services," said Agilant EVP, Mark Romanowski.  "We strive for a win-win-win scenario.  When Agilant wins, HPE wins, and so do our customers."
HPE cited three reasons for the momentous award: loyal partnership in the Florida geography, early adoption of technologies such as Primera Storage in key accounts, and significant year over year growth through FY20.
"It is not surprising that Agilant won the 2020 HPE SLED South/Central Partner of the Year award. After all, they have a lengthy, focused and successful track record selling to many of the Southeast State Agencies, Municipalities, Departments as well as Universities. Furthermore, Agilant Southeast is led by the Tech/Sales savvy Senior Director, Steve Cavendish, Jr. and his very experienced, focused and professional team of sales and pre-sales professionals that truly embraces and delivers HPE's strategy and solutions to the SLED vertical. Congrats to Agilant…well deserved!"  — Colin Patterson, HPE Partner Business Manager
Our joint commitment to excellence is further substantiated by Agilant's HPE Platinum partner status, meaning we not only meet and exceed HPE revenue thresholds, but that we consistently achieve the highest in sales & technical certifications, and as a result, the highest in customer satisfaction ratings. Agilant and HPE consistently invest in joint go-to-market strategy and strive for an optimal customer experience, resulting in seamless processes and repeat business.
In addition, the leadership at Agilant sits on HPE executive councils, enabling our voice to comprise decisions that affect channel technology direction, partner positioning and our customer community. We advocate through executive relationships and direct communication.
For more information on Agilant, visit us online at www.GoAgilant.com